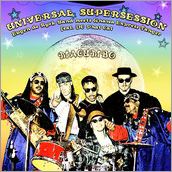 Eugen de Ryck (guitar) met Abdelmajid Domnati (gimbri = great grand father of the bass) in 1994 while Abdelmajid was touring Europe with "Gnawa Express Tanger". Eugen wasn't playing any gigs at the time and was hired by Uta and Edgar Hoffmann (Embryo , Logic Animal, both bands Eugen and Edgar were playing in) to be the tourmanager. One night at the hotel Abdelmajid (band leader, Gnawa Express) heard Eugen play guitar and was really impressed, he offered to create a band with Eugen and "Gnawa Express". In the following jam sessions they created a new form of world music focusing on funk rock & soul. It was a fusion of the traditional Gnawa* music with hip hop and reggae influences.
* Gnawa musicians are known for their trance like riffs, steppdance, metal castagnettes (quraquaba) and fighting skills. The music is said to have healing properties. Originally from Sudan, they were called by the king several hundred years ago for protection of the throne to Morocco, and they still are have upper class status in Morocco. One Gnawa prophet Bilal composed music to the whole quran. Gnawas have Muslim and African gods.
Back to the band: After a short stint of Brooklyn rapper Chevy, singer and drummer Dwayne Cornelius/DC phat cat took over the main vocals.
Manager and Promoter Marcus Figgen heard the idea and 2 months after the gnawa express tour he arranged for abdelmajid and his band mate Abdullah Harroch to come to his place in Essen Germany. he called Eugen and said: "Come on up here, we're gonna record an album in Al Flcone's studio and book a tour! the Moroccans are coming!"
The band was working and touring for 3 months, about 20 shows around Europe and recorded a brilliant album in the meantime.
Shortly after the tour marcus figgen had to flee germany, the drummer Marcus grosser died at 24 years old after a LSD trip and bass player Matt Schaefer moved to NYC to get married. The Gnawas went back to Morocco and the recordings vanished.

Last year all of a sudden Eugen gets the old rough mix tapes from Matt Schaefer, who had moved to Austin TX and started mastering them.
And now finally 17 years later the first Universal Supersession recordings see the light of day. they are available as downloads through the FUEGO label. The are tons more stories about the band, the individual musicians, the gnawas... but now let the music speak for itself.
a list of musicians who played with UNIVERSAL SUPERSESSION
Abdelmajid Domnati Gimbri Abdullah Harrouch/Marrokko Vocals, Metall-Kastagnetten, die Qraquaba
Reggie Worthy/USA Vocals, Bass
Lutz Oldemeier/D Drums
Asiz Kuyateh/Gambia Vocals, Percussion, Kora (afrikanische Harfe 23-saitig)
Kerry L. Dooley/USA Vocals
Barri Sangare/Mali Vocals, Percussion, N`Goni (afrikanische Harfe 12-saitig)
Steffen Meder/D Drums
Thore Benz/D Bass, Backing-Vocals
Matt Schaeffer/USA Bass, Backing-Vocals
Antoni Josef Ziut Gralak Polen, Vocals, Trumpet, Percussion
Dorotha Jablonska/Polen Backing-Vocals
Marcus Grosser "Macumbo"/D Drums
Alfonso Gumbs/ Aruba Drums, Backing Vocals
Dwayne Cornelius, DC Phat-Cat/USA Vocals, Percussion, Keyboard
Christoph Schmülling/D keyboard
Mike Turnbull/GB Perussion
Asiz Lamrani/Marrokko, keyboards
Chevalier Engelhard "Chevy"/USA Rap
Aj Herel -à> 6 Obertonsänger/TUVA Mongolia
Max Gruber/Sound Trucking Office